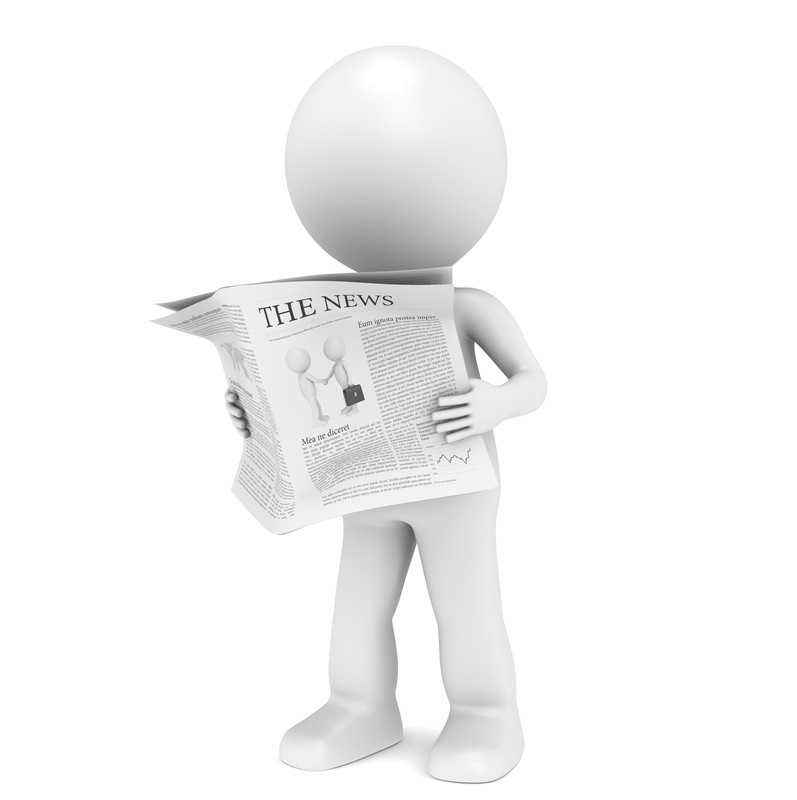 15th January 2019 - Happy New Year! We are starting 2019 off well, with the addition of 4 new honours students! Amy, Beinn and Nika are joining us in the lab to look at the enthesis in mouse and in vitro models and Anna will be looking at the effect of online learning in anatomy teaching. Welcome all!
12th December 2018 - We enjoyed a lovely Christmas lunch and said our goodbyes to Mario who is returning home at the end of this month.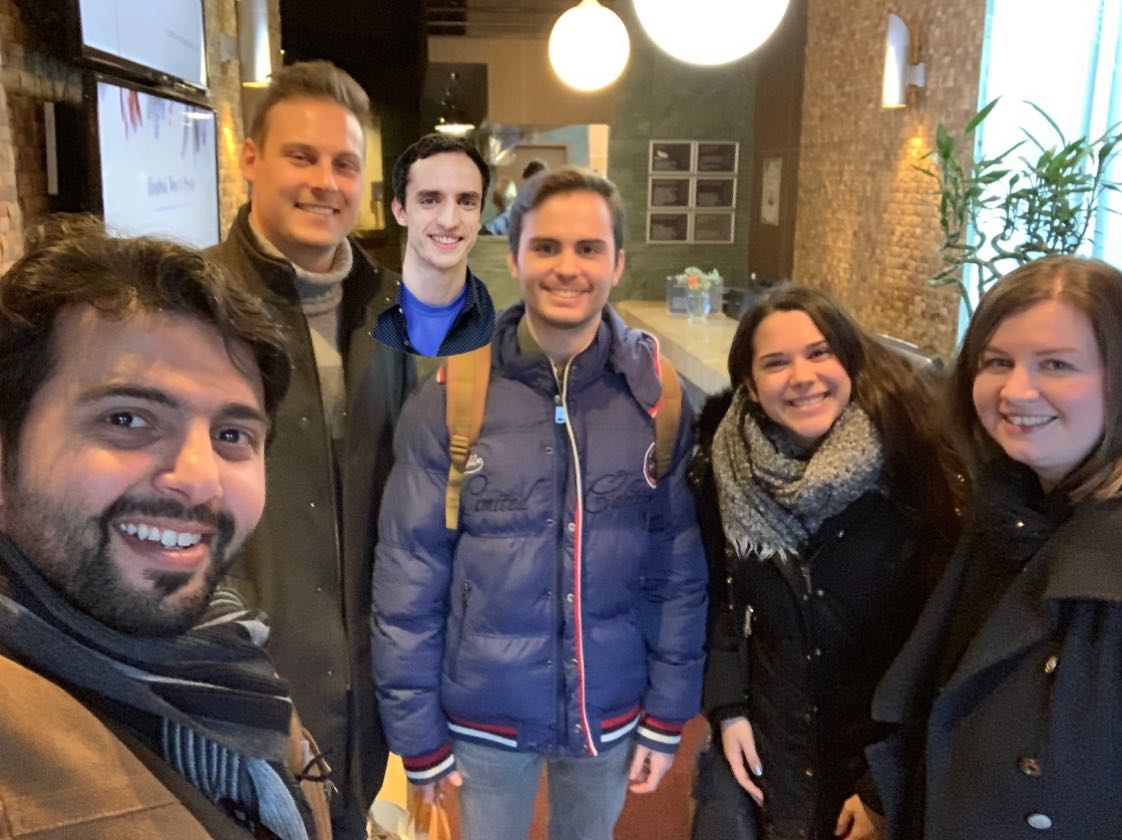 September 2018 - New lab members! A very warm welcome to Jan and Judith, who are joining us as part of their MScR rotation. Also, a big welcome to Mario here on an Erasmus exchange.
20th July 2018 - Outreach award! We are super excited to announce that we are partners in a Royal Society Partnership Grant which aims to bring scientists and teachers together to deliver exciting science-based workshops into schools. The Paxton Lab will be working with a local primary school in Edinburgh to deliver a Tissue Engineering programme of work and we have lots of exciting things planned - watch this space!!
14th May 2018 - We are delighted to welcome Alice and Yousef to the team! They will both be completing their MSc Human Anatomy research projects in the lab; Alice will be working on 3D bioprinting and Yousef will be working on digital analysis of the human enthesis.
16th March 2018 - Outreach award! Dr Paxton has won the 'I'm a Scientist' competition again and this time, is going to be conducting an anatomical citizen science project with primary schools all over the UK. Details of our findings will be posted in the next few months.
15th August 2017 - Funding! We are delighted to announce that our funding application to The Carnegie Trust was successful! This money will allow us to purchase some key experimental kit and help establish some new, exciting avenues of research.
27th April 2017 - Edinburgh Musculoskeletal Symposium. PhD students Hamad and Jeremy presented their work at the first Edinburgh Musculoskeletal Group (EMG)Symposium held at the University of Edinburgh. This new group aims to bring together researchers working within musculoskeletal science across Edinburgh. It was a great first meeting and we look forward to seeing what projects and collaborations can be formed from it!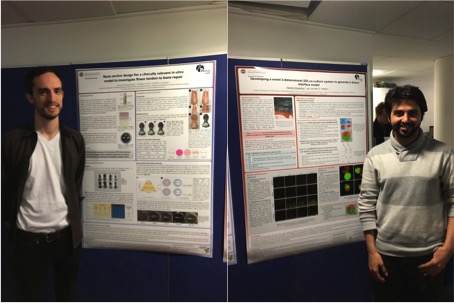 Jeremy (left) and Hamad (right) at the EMG symposium.
1st June 2017 - Congratulations to our three honours students; Miriam, Peter and Ailsa. They all completed excellent projects with us, well done!
6th January 2017 - New lab members! Welcome to our 3 BSc (honours) students who are undertaking their projects with us. Miriam Graute, our previous summer student, is going to be looking at a co-culture environment for bone-ligament creation. Peter Bruce-Wootton, another previous summer student, will be looking at the effect of growth factors on engineered ligaments. Finally, Ailsa Luke will be joining us to look at factors the influence online learning. Ailsa will not be based in the lab but will be joining us for lab meetings!
3rd October 2016 - New lab members! We are delighted to welcome Jeremy Mortimer to the lab where he will be undertaking his PhD investigating the development of an in vitro model to understand flexor tendon repair. We are also pleased to welcome Calum Davie, who is going to be working on novel hydrogels for tissue-engineering applications for his MSc project. Welcome to the lab!
28th May 2016 - Funding! We are very pleased to announce another successful funding application. Medical Research Scotland will be supporting Peter Bruce- Wootton and his exploration of generating graded mineral hydrogels.
11th May 2016 - Funding! We are very fortunate to have been awarded a summer studentship from the Anatomical Society to fund a project on engineering the enthesis with novel hydrogels. The award will fund an undergraduate student, Miriam Graute, for 10-weeks to undertake this research.
12th April 2016 - Funding! Orthopaedic Research UK have awarded us a 3-year research grant to investigate repair at the flexor tendon insertion site. This money will be used to support a PhD student for three years and enable us to develop a new model to study bone-tendon interface repair in the laboratory.
14th January 2016 - New lab members! We are very pleased to have 3 BSc (Hons) Medical sciences students in the lab to investigate various areas of musculoskeletal tissue engineering. Dominika will be studying the formation of artificial tendons to model diseases processes, Natalie will be investigating a new model of uterine tissue formation and Aiste will be evaluating different hydrogels for use in tissue-engineered bone production. Good luck of all three of you and welcome to the Lab!
5th October 2015 - New lab members! Welcome to Callum who is going to be completing his MSc in Biomedical Sciences research project in the lab. Also, welcome to Johanna who is joining us for 15 weeks from the University of Würzburg. Both students will be working on various parts of our engineered tendon and bone projects.
24th September 2015 - We are very excited to have been awarded a Royal Society Research Grant. This grant will allow us to buy some vital equipment for investigating engineering musculoskeletal tissues in the lab!
17th August 2015 - Congratulations to Emmaline and Firdaus for submitting their MSc Human Anatomy research dissertations.
1st June 2015 - Welcome to PhD student Hamad Alsaykhan. Hamad will be studying ways to recreate anatomical interfaces in the lab.
18th May 2015 - Welcome to the three new members of the Paxton Lab. Emmaline and Firdaus are completing their Human Anatomy masters projects over the summer and Natalie is here to get some tissue engineering lab experience.
9th April 2015 - Jennifer is very pleased to be the 2015 recipient of the Larry Hench Young Investigator Award from the UKSB. She will be presenting some of her work at the UKSB conference in June. http://uksb.org/
31st March 2015 - Jennifer presented some of the lab's work on tissue-engineered ligaments at Experimental Biology Conference in Boston, USA.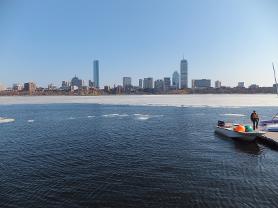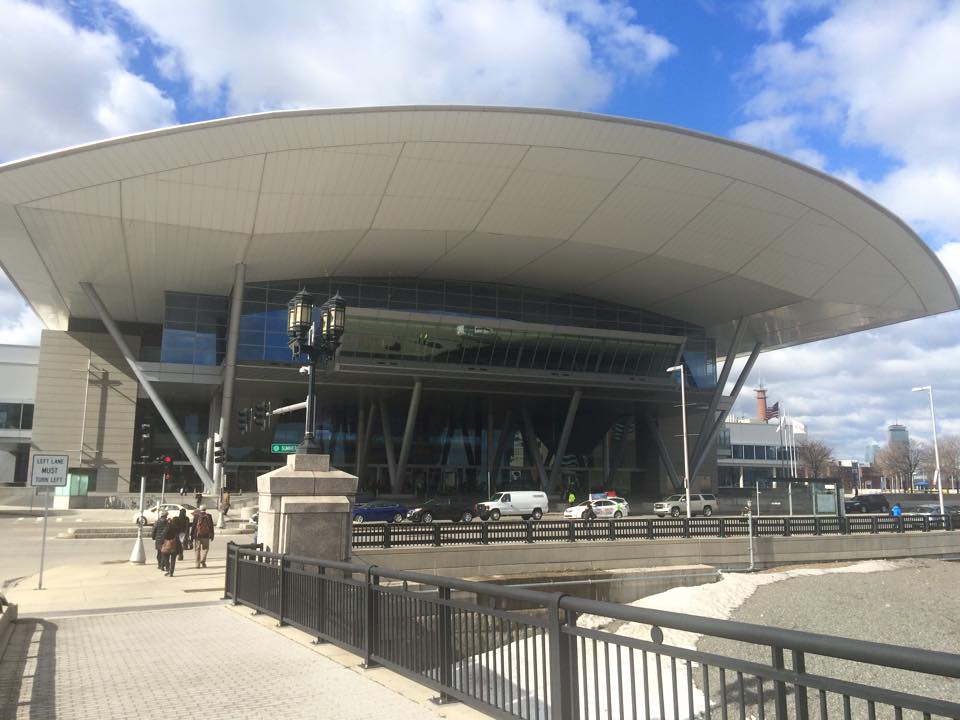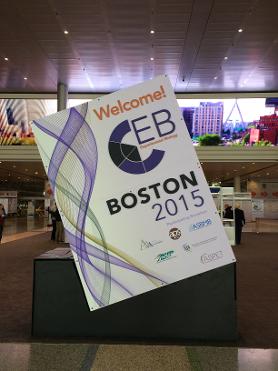 1st March 2015 - Jennifer has secured an Anatomical Society Symington Bequest Award to help fund her trip to Experimental Biology 2015 in Boston.

24th February 2015 - Very excited to begin work on our new project funded by Tenovus Scotland!
21st February 2015 - The honours students are doing very well. Nikki is working on the engineered ligament constructs, Duncan is establishing a novel culture system for interfacial tissue engineering and Daisy is investigating ways to form tissues faster. Excited to see some more results!
12th January 2015 - Delighted to have 3 new BSc (Hons) Medical Sciences students starting research projects in the lab.
August 2014 - Excellent oral presentations from the MSc Human Anatomy students!
June 2014 - Our MSc research projects are going well!
May 2014 - We have two MSc students in Human Anatomy joining the lab for their summer research projects!
7th February 2014 - The website has gone live!
6th January 2014 - The Paxton Lab joins the University of Edinburgh!