Patricia Medesan PhD Student: 2020-present
Thesis title: Using collagen sponges to engineer bespoke bone-tendon constructs in vitro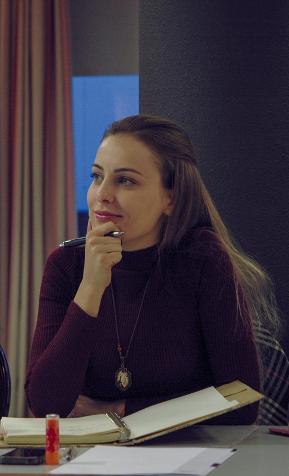 BACKGROUND: Patricia is a Biomedical Engineer at core with a keen desire to prove that Science is Fun! Her journey towards pursuing a scientific career was at least unanticipated. In her childhood and early teenage years, Patricia was passionate about both art and science. She attended an art school, taking advanced piano and ballet lessons for over a decade whilst she was reading encyclopaedias in her free time. Her interest in science continued to flourish over the years, ultimately leading her to pursue a bachelor's degree (BEng) at the University POLITEHNICA of Bucharest (Romania) in Biomedical Engineering, graduating as valedictorian in 2017.
The intrinsic motivation to further explore the potential of tissue engineered constructs to support tissue regeneration drove Patricia to focus her interest towards regenerative medicine for her graduate studies. Therefore, she was granted the Andrew Hosty Scholarship from The University of Sheffield to undertake a postgraduate (MSc) programme in Biomaterials and Regenerative Medicine, graduating in 2018 with Distinction.
Following this, Patricia returned to her home country, Romania, where she worked as a Biomedical Engineer in a private company. Later on, she joined a Radiobiology Laboratory in the "Horia Hulubei" National Institute for Physics and Nuclear Engineering (NIPNE) where she assessed a biomarkers panel for further developing a personalized treatment scheme using molecular biology and biophysics tools to investigate the in vitro radiosensitivity of H&N (head and neck) and breast cancer patients.
CURRENT WORK: Patricia joined the Paxton Laboratory in early October 2020 as a PhD student in Anatomical/Biomedical Sciences. Her project focuses on the investigation of jellyfish collagen sponges as prospective artificial bone anchors in the development of an in vitro bespoke bone-tendon replacement. Her studentship is funded by Medical Research Scotland (MRS https://medicalresearchscotland.org.uk/) and consists of a collaborative project between academia and clinics, with direct links to industry.
Host Institution: University of Edinburgh (Dr Jennifer Z. Paxton)
Partner Institutions: NHS (Miss Philippa Rust), Herriot-Watt University (Dr Yuhang Chen), Jellagen® [https://www.jellagen.co.uk/] (Prof Andrew Mearns Spragg).
OTHER INFO: In her spare time, Patricia is a restless traveller and adventure seeker, smile spreader, avid reader, music and dancing enthusiast, animal lover, and, of course, chocolate addict.